Robert Kaufman Quilt Contests

Sponsor Information: Electric Quilt

The Electric Quilt Company is the leading quilt design software company in the world. The company prides itself on making software easy to use and offering top-notch, "real person" phone and email technical support to its software users. The support books and online software help are written in a step-by step, user-friendly style so that even the novice computer user can succeed. Electric Quilt wants its software users to feel comfortable contacting the company when they need help. This is probably why Electric Quilt has received many rave reviews, not only for the software, but for how well the customers are treated.
Most importantly, Electric Quilt strives to continue developing the latest and most innovative products in the quilt design market. The company listens to the needs and struggles of the customers and does its best to provide customers with the most effective solution. Electric Quilt offers an extensive assortment of software programs and printable products for quilters and crafters of every style and skill level.
Find out more about Electric Quilt Company products for quilters and crafters by visiting www.electricquilt.com and www.quiltdesignwizard.com.
Contributing Prizes:
First Place: $200 (retail value) gift certificate
Second Place: $150 (retail value) gift certificate
Third Place: $75 (retail value) gift certificate
Honorable Mention: $50 (retail value) gift certificate
Curator's Choice: $25 (retail value) gift certificate

Electric Quilt 6

Quilt Design Wizard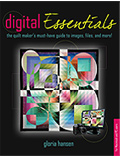 Digital Essentials: The Quilt Maker's Must Have Guide to Digital Images, Files and more!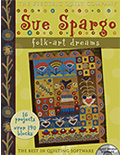 Sue Spargo Folk: Art Dreams