Ask Margrit Summer 2007
2007 Spring Quilt Market From Margrit's Perspective
Quilting Questions Answered
The e-Forum column is dedicated to you, the quilter. I would like to encourage you to participate in the e-Forum by submitting any events, thoughts, questions and hints to "Ask Margrit" and submitting your information via e-mail. If you submit information regarding quilting events in your area, we will post as many as possible. Please submit at least 2 months prior to the event.
What's New!
As usual Quilt Market was wonderful, so much to see. I picked some fun and exciting new products, tools, and gadgets for quilters from this year's Spring Quilt Market in Salt Lake City to share with you. I have also provided website information for those of you that want to get more in depth information on the item you find of interest.
The Fabric Organizer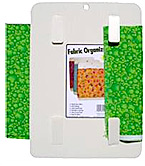 Each organizer is made of a lightweight acid-free corrugated plastic, and includes tabs to hold the fabric. The large organizer stores from 1/2 yard to several yards. The small organizer is perfect for fat quarters and smaller yardages. They can be hung on a wall or stored on a bookcase or plastic bins.
www.thefabricorganizer.com
832-717-5702
Martelli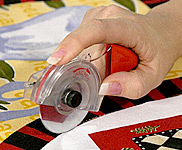 ErgoCutter 2000 Rotary Cutter
The cutter comes in either a 45mm or 60mm size and is either a right handed or left handed design. Because of the design the cutter allows you to cut many layers of fabric at once with less hand pressure. You can cut while either standing or in a seated position.
www.martellinotions.com
850-433-1414
Colonial Needle Company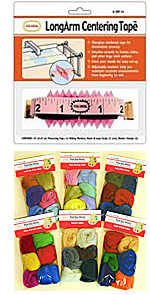 LongArm Centering Tape
A great tool for the long arm quilter. It suspends securely over the work area, leaving your hands free for positioning and pinning your quilt materials. The tape is fiberglass for long lasting use. The 12 sliding markers act as a guide for consistent measurements.
Paint Box Wool - Needle Felting Fiber
100% wool fiber for felting and crafts. It comes in 36 different colors. In addition to needle felting it can also be used forspinning, weaving, doll hair and more.
www.colonialneedle.com
800-963-3353
Jeana Kimball's Foxglove Cottage
Glass Head Appliqué Pins
They are 1" long, slightly longer than most appliqué pins, yet they are short enough to avoid catching the thread while stitching. The points are extra sharp and the glass heads make them easy to use.
Size 7 Embroidery/Wool Needles
The long needle with a very thin shank is great for reaching through the thickness of wool to complete stitches. Jeana said she has found that this extra long needle is perfect for the appliqué stitch she uses on wool.
www.jeanakimballquilter.com
435-462-9618
Quilter's Rule

Nested Templates
These templates fit inside each other, offering a verity of sizes for each shape. They are great for cutting out shapes with a rotary cutter for piecing or appliqué. They could also be used for marking a quilt for quilting.
www.quiltersrule.com
800-343-8671
June Tailor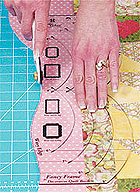 Grid Maker
The Grid Maker draws perfect grids quickly and easily. It is great for quilting chenille and craft projects.
Creative Cut Ruler
A versatile ruler for quilting and other craft projects. It cuts strips, squares, diamonds, and triangles. You can also crop photos and trim borders.
www.junetailor.com
800-844-5400
EZ Quilting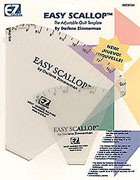 Easy Scallop by Darlene Zimmerman
This tool takes the work out of scalloping quilt borders. It makes it easy to figure and mark scallops that range in size from 4" to 12".
www.wrights.com
www.ezquilt.com
877-597-4448
Kaleidoscope Collection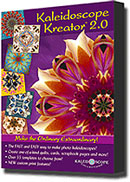 Kaleidoscope Kreator
Creating kaleidoscope images with the click of a button. Make kaleidoscope images is fun and easy with this software. Photographs of family, pets, vacations, or children's artwork can be turned into one of a kind kaleidoscope images. Print on fabric for use in quilts, pillows, purses, or garments. Print on paper for scrapbook pages cards, paper crafts and more.
www.kalcollections.com
970 231-4076
Mary Ellen Products, Inc.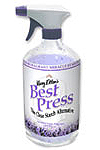 Best Press - The clear starch alternative
A clear starch that doesn't clog, flake, or leave a residue. It relaxes wrinkles making ironing easier. It can also be used in freezer paper appliqué. It holds the crease when pressing under seams allowances. This product contains a light fragrance
www.maryellenproducts.com
800-328-6294