Wholesale Open Stock & Custom Fabric Supplier for Manufacturers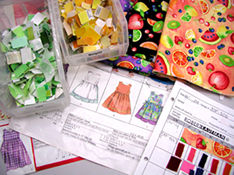 For over 60 years, Robert Kaufman Co., Inc., has been supplying quality fabrics to the U.S. market. Manufacturers from a wide range of markets (women's, men's and children's wear; sportswear; career and uniform apparel; home and kitchen, among others) have all relied upon our extensive open stock line for their various textile needs. Further, Robert Kaufman Co. offers a Sourcing and Design Department for those customers whose needs go beyond the stock line and require custom development. For more information or to become a customer, please contact Robert Kaufman Fabrics.
The Open Stock Line
The open fabric line features an extensive range of cotton prints, yarn-dyes and solids, covering a full assortment of woven fabric offerings such as poplin, twill, denim, corduroy, linen, canvas, crepe, voile, lawn, satin, georgette, flannel, organza, chenille, stretch wovens, plaids, stripes, etc. Fiber contents include cotton, poly/cotton, linen, cotton/spandex, and various other blends. For a sampling of our current line, please see Fashion Solids, Yarn Dyed Fabrics, Fashion Prints, or Novelty Print Fabrics.
Custom Sourcing and Design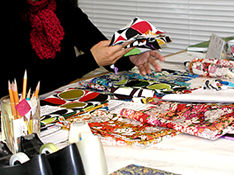 Our Custom Fabric Sourcing and Design Department is prepared to handle your custom fabric needs, whether they be for custom print fabrics , custom yarn-dyed plaids and stripes , or custom solid dyed fabrics .
Prints

There are two ways you can work with us for prints:
1. Bring us your design, or,
2. Work with our designers to create an original design to meet your needs.

Our Design Department offers creative design from our in-house painters
and computer CAD artists, as well as off-shore design studios and licensed
artists. Depending on the extent of art services needed, a fee may be required.

Printing minimums: Minimums are generally 3000 yds per design and 1000
yards per color. For lower price points minimums can be 5000 per design
and 3000 per color. If your needs are less than this, you would not be able to
work with this department; however, your ideas can always be presented for
consideration of our open line.

We can produce for you a very complete range of yarn-dyed items in various weights and constructions. Minimums are generally 1000 - 3000 yds per color/pattern.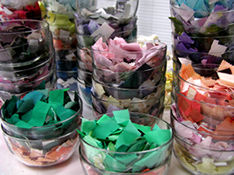 Solid Dyed

All items in the open line are available for dyeing into your custom colors. Minimums range from 500 - 3000 yds per color depending on the item. We can also use our international mill connections to source your specific fabric needs. Production minimums will apply and generally range from 3000 - 30,000 yards