Designer's First Look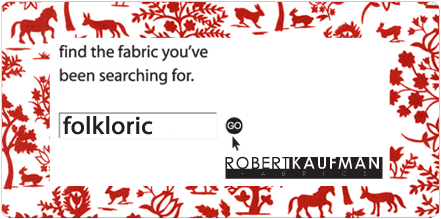 Folkloric shows another side of the bohemian moods. This collection is free-styled with echoes of gypsy, hippy, Russian folk inspirations with peasant and country life influences. It's where peasant meets poetry, a desire for simplicity and roots that bring the folklore borrowed from the past to the present.

The folkloric look can be found in childrenswear, menswear, womenswear, quilting, crafts and in the home. From charming dresses to curtains, lampshades and handbags, it's an easy look to adopt.
Look for intricate and scaled-down patterns, paisleys, scaled border prints with strong bands of color, lacing, piping, square yoke necklines, smock shapes, elastication, flounces and full blouson sleeves as the main features of this current look. Arts and craft texture also features on some pieces within this category.

At Robert Kaufman, we offer folkloric in so many styles: country-chic style prints, organized flower prints that are similar to old-fashioned wallpaper, and all-over decorative folk motif designs, including paisleys and florals. You'll be sure to find your own folkloric beat here!