Dr. Seuss Enterprises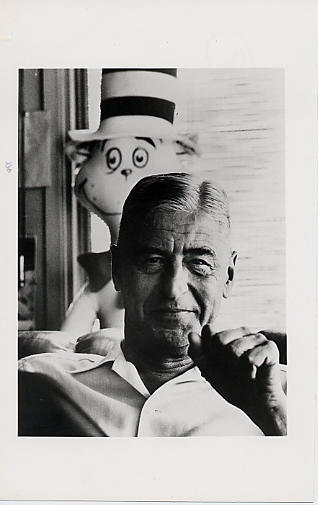 "A person's a person, no matter how small," Theodor Geisel, a.k.a. Dr. Seuss, would say. "Children want the same things we want. To laugh, to be challenged, to be entertained and delighted."

Brilliant, playful, and always respectful of children, Dr. Seuss charmed his way into the consciousness of four generations of youngsters and parents. In the process, he helped millions of kids learn to read.

Dr. Seuss was born Theodor Geisel in Springfield, Massachusetts, on March 2, 1904. After graduating from Dartmouth College in 1925, he went to Oxford University, intending to acquire a doctorate in literature. At Oxford, Geisel met Helen Palmer, whom he wed in 1927. Upon his return to the United States later that year, Geisel published cartoons and humorous articles for Judge, the leading humor magazine at the time. His cartoons also appeared in major magazines such as Life, Vanity Fair, and Liberty. Geisel gained national exposure when he won an advertising contract for an insecticide called Flit. He coined the phrase, "Quick, Henry, the Flit!" which became a popular expression.

While on a holiday cruise, Geisel developed the idea for his first children's book in 1936. The rhythm of the ship's engine drove the cadence to And to Think I Saw It on Mulberry Street.

During World War II, Geisel joined the army and was sent to Hollywood where he wrote documentaries for the military. During this time, he also created a cartoon called Gerald McBoing-Boing, which won him an Oscar.

In May of 1954, Life published a report on illiteracy among schoolchildren, suggesting that children were having trouble reading because their books were boring. This problem inspired Geisel's publisher, promoting him to send Geisel a list of 400 words he felt were important for children to learn. The publisher asked Geisel to cut the list to 250 words and use them to write an entertaining children's book. Nine months later, Geisel, using 220 of the words given to him, published The Cat in the Hat, which brought instant success.

Winner of the Pulitzer Prize in 1984 and three Academy Awards, Geisel authored and illustrated 44 children's books. His enchanting stories are also available as audiocassettes, animated television specials, and videos.

While Theodor Geisel died on September 24, 1991, Dr. Seuss lives on, inspiring generations of children of all ages to explore the joys of reading..
Robert Kaufman Fabrics from Dr. Seuss Enterprises