Dan Morris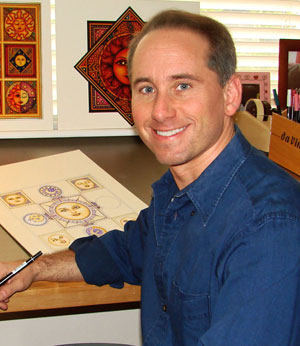 Dan Morris grew up in Carmel, New York an hour north of New York City. At age eleven, he began studying art under German sculptor, Paul Rudin. Dan continued his art study throughout high school and later attended Temple University, where he studied architecture. Dan began his art and licensing career in 1994. From his first portfolio of work he acquired his first two art licenses. The first was designing greeting cards and gift products for Sunrise Greetings. The other was creating Tour shirt designs for rock artists such as Blues Traveler, The Grateful Dead, The Band, and Bob Marley. From that early, diverse clientele, Dan went on to develop a wide-ranging portfolio of art which today can be seen on hundreds of different products at major retailers throughout the country. Home Décor, Ceramics, Greeting Cards, and Fabrics are just a few categories Dan's art is featured on. Dan's Celestial/Sun and Moon calendars have been best sellers since 1999, and his many fabric collections are popular in crafting, quilting and manufacturing markets. In 1995 Dan created his best selling line of Tween decal art and it is still available today at Target and other major retailers.

Dan's versatility has led him into multiple design styles and themes. Lodge, Beach, and Celestials have been just a few of his more popular subjects. His portfolio features over a thousand designs, in many styles. Dan works between 80-100 hours per week meeting the design needs of his clients and continues to develop and expand his range of artwork and design styles.

Dan presently lives in Virginia Beach, Virginia with his wife Barbara and two children, Collin and Amanda. Barbara, a former Kindergarten and second grade teacher, has been working with Dan as his licensing coordinator and designer since 2004.