Print this page

Fabrics: Precuts
Half the size of my sister, the fat quarter, I measure 9" x 22*" & am a great fit for small or large projects! *1/2" of the width of fabric = 22", except in cases like flannel, when the width varies from the 44" average.
Fat Eighths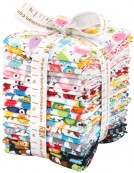 Urban Zoologie Minis by Ann Kelle, complete collection
FE-102-20
Allocation pending
20 pcs / 2.5 yards

While every effort is made to represent color accurately, every monitor is different and we cannot guarantee the colors you see match the colors of actual fabric.