Fabric Designers
Jennifer Sampou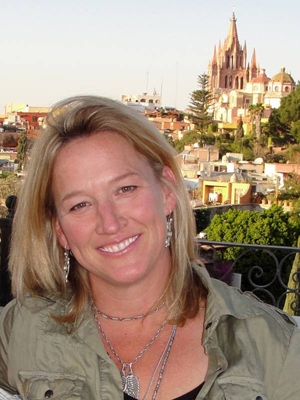 Observation and contemplation coupled with the intense desire to create something gorgeous and tangible are the main ingredients that drive Jennifer's work as an artist. Since childhood she has enjoyed hobbies such as creating lush terrariums in glass jugs, etching decorative leather belts in her dad's workshop, and sewing elaborate sequined ornaments for the Christmas tree with her mom. Creativity was an everyday part of life while growing up in Massachusetts. Her mother and father were loving and supportive. As the youngest of five, she had lots of freedom to grow and discover.

Her path was clear from an early age: to combine her love of art, sewing and travel. As a young woman she studied Surface Design at Fashion Institute of Technology in New York City and worked in Wales, UK, with Laura Ashley. In the late 80s after graduating from the University of Vermont with a BS in textiles, wanderlust led her west to San Francisco where she was hired as the creative director for P&B Textiles, an established yet small company ripe for exciting design. She headed up all P&B fabric creations for seven years, leaving an indelible mark in the industry.

In 1996 Jennifer ventured out on her own and opened Studio Sampou in San Francisco. Studio Sampou serviced Northcott Fabrics and later began an exclusive and fruitful relationship with Robert Kaufman Fabrics. As one of the first licensed quilt fabric designers for Robert Kaufman Fabrics, Jennifer developed thousands of fabric prints. Also during this time, she co-authored the book In The Nursery with her sister, Carolyn Schmitz, for C&T Publishing.

In 2005, after nine years of running Studio Sampou, producing millions of yards of fabric, Jennifer decided to take a sabbatical to slow down, enjoy her children, do less, and observe more.

In 2010 the Sampou Hensley family made their dream of living abroad come true and moved to Mexico. There they to could experience a different culture, learn another language, and delve into a new life. Joyfully engaged in a vibrant Central Mexican colonial town filled with culture, art, and beauty, their journey continues. In 2011 she focused on design for a new fabric line based on the countless colorful and festive celebrations she has experienced in Mexico…. FIESTA marked her return to fabric design.
Robert Kaufman Fabrics
from Jennifer Sampou
Lucinda Rayon Lawn