Print Editorial: 2014: ColorPlay: Texture Study 2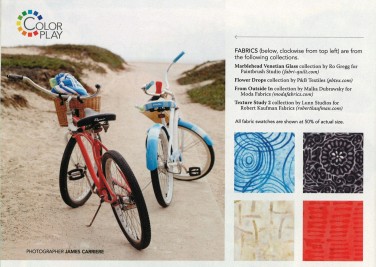 ColorPlay: Texture Study 2
"Capture the colors of a favorite season when selecting the palette for your next project. A refreshing summertime treat, a relaxing ride to the beach, or a bucket of bright blooms can inspire a quilt color scheme. Study these photos for ideas for mixing prints successfully."
As Seen In..
Summer 2014

Rollover the cover
to view publishing
details
Fabrics, featured in this editorial selection

Click a thumbnail for detailed view.
Artisan Batiks
AMD-14305-159
by Lunn Studios
AMD-14305-159 BEIGE