Print Editorial: 2014: Ann Kelle Remix Feature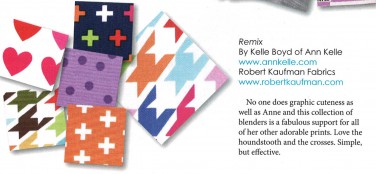 Ann Kelle Remix Feature
"No one does graphic cuteness as well as Anne and this collection of blenders is a fabulous support for all of her other adorable prints. Love the houndstooth and the crosses. Simple, but effective."
As Seen In..
July-August 2014

Rollover the cover
to view publishing
details
Fabrics, featured in this editorial selection

Click a thumbnail for detailed view.