Designer's First Look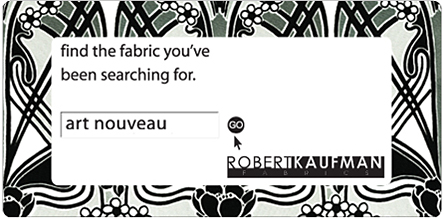 The sleek minimalist look of mid-century furniture, white walls, and concrete bunkers is being replaced by color, ornament, and exuberant Arts & Crafts-influenced patterns. Many designers drew inspiration from Art Nouveau for their Spring 2008 collections, including Prada, Alexander McQueen, and T-Bags - with brilliant results. We'll take advantage of this opportunity to present a mini refresher course in art history:
From Wikipedia:
Art Nouveau
(French for '
new art
') is an international style of art, architecture and design that peaked in popularity at the turn of the 20th century (1890 – 1905) and is characterized by highly-stylized, flowing, curvilinear designs often incorporating floral and other plant-inspired motifs.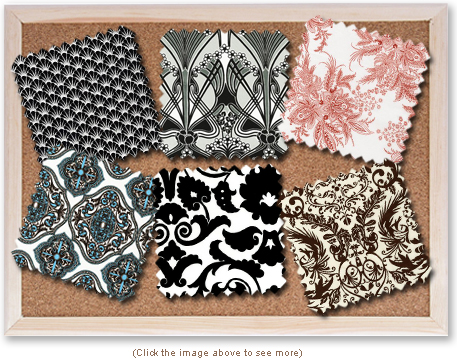 Robert Kaufman offers this look in a collection of quality fabrications for both fashion and home dec and quilting. Extending from images of art deco, art nouveau, baroque and rococo, it carries a certain elegance, class and style of its own. Think graphic wallpaper, and you can get a sense of the layout and motifs. This trend has been featured all over home decor and apparel as it will continue to be popular in many markets. Check out our offerings in this trendy look.